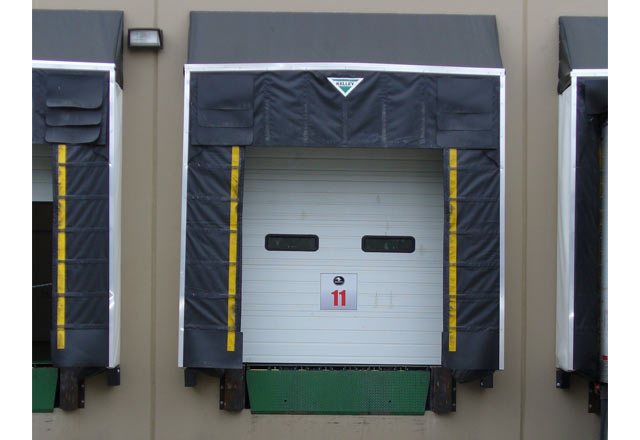 TS Rigid Frame Dock Shelter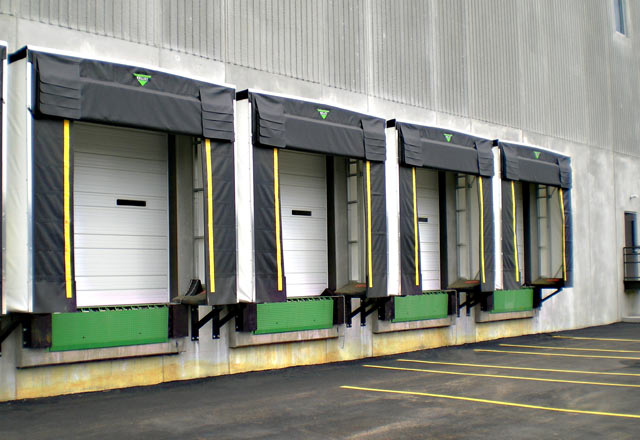 FF Series FLEXFRAME® Dock Shelter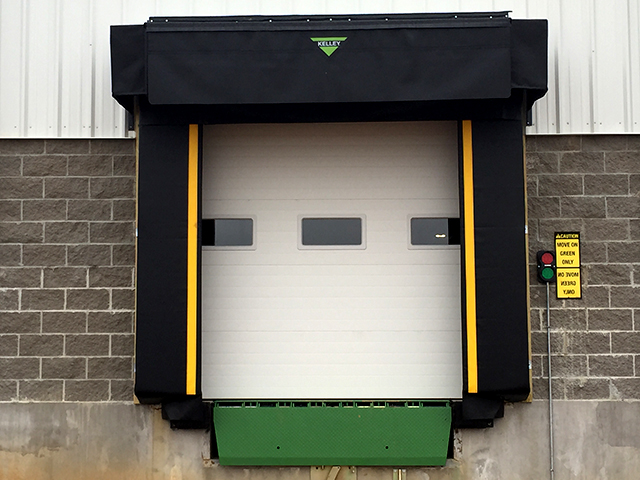 FSR1000 FoamSide® Dock Shelter
Dock Shelters
Kelley loading dock shelters help protect your assets and your people from the elements while providing full, unimpeded vehicle access for a safe and productive dock. Dock shelters also help maintain temperatures in climate-controlled facilities, adding to the energy savings benefits. The flexible structures can withstand damaging force and compression when a trailer backs up to the wall for years of reliable performance.
Smart Design Advantages:
Ultra-durable

TufSteel®

 framing for years of reliable performance (TufSteel® is backed with a 5-year warranty)
Wide selection of durable coated fabrics for maximum durability
Optional flame-retardant foam and fabrics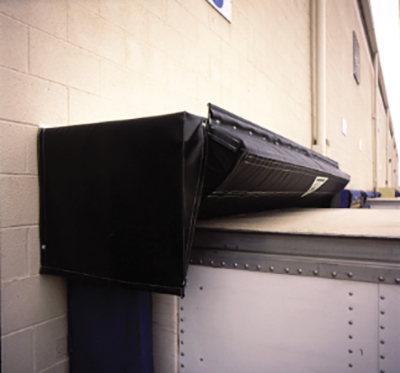 AQS900 AquaShield® Rain Sealing System
A rain sealing system like the Kelley AQS900 AquaShield® provides important protection from the elements, keeping products safe from costly water damage. The Kelley AquaShield® rain sealing system keeps external moisture out of the loading dock area with a "wiper" pad that scrapes water off the top of the trailer while the trailer is backing into position. The AquaShield® design is ingenious because it works so well and yet is so simple that it requires virtually no maintenance.
Resources for this product can be DOWNLOADED HERE >>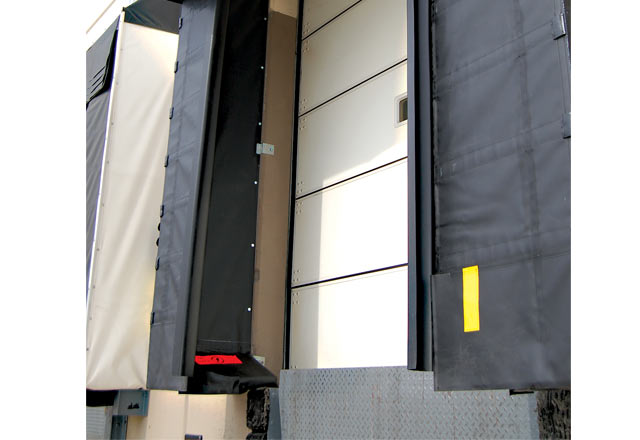 HINGE GUARD™ Dock Shelter
Conventional dock shelters offer full trailer access, but when a trailer's doors are opened, a series of gaps appear between the trailer hinges, which allow the elements to enter the facility and conditioned air to escape, reducing employee comfort and increasing energy costs. The Kelley HINGE GUARD™ Dock Shelter System is specially designed to close off trailer hinge gaps while keeping trailer access unrestricted, securing superior energy efficiency for your loading dock.
Resources for this product can be DOWNLOADED HERE >>
TS Series Rigid Frame Dock Shelter
The Kelley TS Series rigid frame dock shelter is designed to accommodate a wide variety of door and vehicle sizes while providing full-width access to the back of the trailer. Steel supports protect the frame from off-center trailers, and flexible fiberglass stays ensure that the head and side curtain pressure is maintained on the trailer body. A head frame covered with translucent fiberglass with 2" side-to-side rake ensures proper water drainage.
Resources for this product can be DOWNLOADED HERE >>
FF Series FLEXFRAME® Dock Shelter
The Kelley FF Series FLEXFRAME® loading dock shelter accommodates a wide variety of vehicle sizes and types, while providing full trailer access during the loading process. A gravity-biased, flexible frame yields to misguided vehicles, preventing costly building and shelter damage. As the vehicle approaches, if off-center vehicle contact occurs, the dock shelter moves up and back to prevent costly damage to the wall and shelter. After the vehicle leaves, a gravity-biased design returns the frame to its original position.
Resources for this product can be DOWNLOADED HERE >>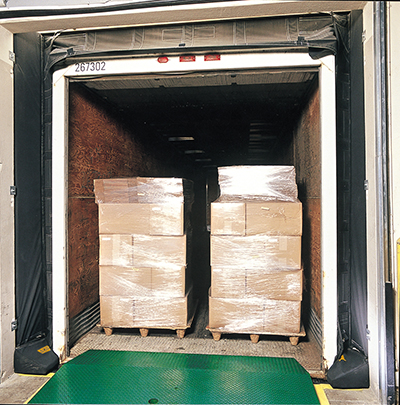 FSR1000 FoamSide® Dock Shelter
The Kelley FSR1000 Series FoamSide® dock shelter combines the flexibility of a seal and the full vehicle access of a shelter. It creates a tight seal between the building wall and the back of the vehicle. It effectively keeps the outside elements, such as the cold, rain, sleet and snow, out of the warehouse, providing energy savings and added comfort for your employees. Its unique steel frame components are covered by a 5-year warranty against rotting, cracking or warping.
Resources for this product can be DOWNLOADED HERE >>