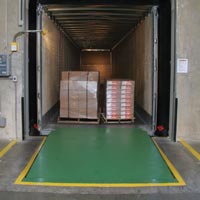 Powered Dock Levelers
While air bag levelers may suit some applications, hydraulic dock levelers with capacities of 60,000 lbs. and higher are the preferred choice for heavy industrial uses. Special accommodations and options often include:
A safety barrier lip to prevent accidental roll off from the dock due to the lack of visibility caused by oversized loads.
Extra-wide and extra-long levelers for full-cube and below-dock end-loading, as well as the flexibility to handle tugs vs. forklifts.
Solutions for Powered Dock Levelers
Quick links to Product Solutions: